About a week ago, Pope Benedict XVI canonized four new saints, the first canonizations to come in 16 months(?). The Associated Press had a short
article
on the news,
here's
something from the Catholic Globe, and even MSNBC ran a short
piece
. From the Pope's
homily
: "May their example encourage us; may their teachings guide and comfort us; may their intercession support us in our daily struggles, so that we too may come one day to share with them and with all the saints in the joy of the eternal banquet in the heavenly Jerusalem."
Sister Alphonsa of the Immaculate Conception
(1910-1946), the first woman from India to be canonized. Born Annakutty from the ancient family of Muttathupadathu, she resisted marriage and professed vows with the Poor Clares on August 12, 1936. After a life of intense physical suffering, she died in 1946. She is buried at Bharananganam, South India. Popular in India among Christians and Hindu alike, her canonization comes at a time when Christians face increasing violence in India.
Here's
another article on her and her
Wikipedia
page.
Feast: 28 July
Patronage: against illness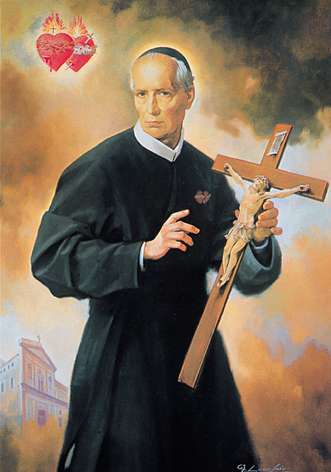 Gaetano Errico
(1791-1860), a Neopolitan priest who founded the
Missionaries of the Sacred Hearts of Jesus and Mary
based on a vision from St. Alphonsus Liguori.
"Fr. Gaetano was truly a man of God, a man with a mission, a man on fire with an unquenchable love of Jesus and Mary. The first secret of his holiness was prayer. Ever on his knees, his small room in the house in Secondigliano bears the indentations on the floor where, kneeling, he found refuge and strength.
Penance further sustained his holiness. He fasted continuously, often only taking bread and water in order to give his share of food to the poor. Self-flagellation was part of his penance, offered humbly for the many sins that wounded the Heart of Jesus. He was never too tired to travel on, preaching, hearing confessions, encouraging the reception of the Body and Blood of Christ. His comfort and caring presence reminded all of the love of God the Father... leading many in the small towns and villages to call him a saint."
Feast: 29 October
Sister Maria Bernarda
(1848-1924), born in Switzerland, who worked as a nun in Ecuador and Colombia. She joined te Franciscans in 1869 and traveled to Ecuador, where she founded the Fransican Missionary Sisters of Mary Help of Sinners. Violence forced her and her other sisters to flee, and they wound up in Columbia, where she remained for the rest of her life.
Feast: 19 May
Narcisa de Jesus Martillo Moran
(1832-1869), a 19th century laywoman from Ecuador who helped the sick and the poor. During her life, "she had made a private vow of perpetual virginity, poverty, obedience, enclosure, eremitical life, fasting on bread and water, daily Communion, confession, mortification and prayer. All these vows she kept faithfully. She lived in continuous union with Jesus Christ."
Her incorrupt body rests in Nobol, Ecuador, where a shrine has been erected to the "Nina Narcisa"
Feast: 30 August